Meet Me on the Front Porch
Grab a sweater and a cup of tea, and enjoy a crisp fall evening on your newly refreshed front porch.
Article 1 of 6
Let's revisit the front porch as a hub of family and community activity: a place to gather your thoughts, dine, catch up with neighbors and people-watch. Consider these fixes to boost your front porch appeal.
Take a Seat
Often the easiest way to inject new life into a space is to change the look of an existing piece of furniture. Paint a porch swing bright red for a strong focal point. Give your rocking chair a lift with a coat of floral-inspired paint. Consider the style of your front porch – traditional, farmhouse, modern, etc. – and paint furniture accordingly.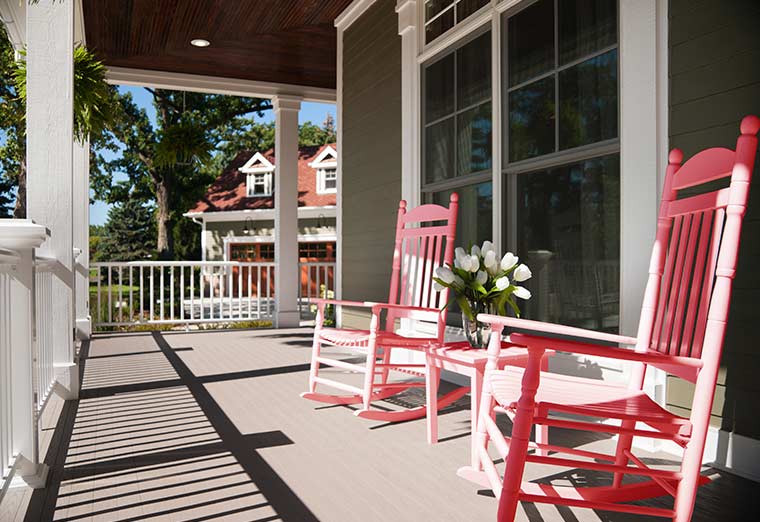 Look Down, Look Up
Put a little kick in your step by painting your porch floor. Stain the floor in a rich neutral, paint it a bright solid color or go with tone-on-tone geometric shapes. If painting the floor isn't an option, select a uniquely patterned rug to enliven the space. Lift the spirits with a ceiling painted to match a clear-blue sky or to accentuate planks and beams. You can even be a little daring and use a bright pink or purple to brighten even the cloudiest day.
Make it Welcoming
Think of the front porch as your outdoor family room. Make it cozy, inviting and a reflection of your home's decor. Bring the inside out by placing a large rug instead of a small welcome mat outside of the front door. Select a bold front door color to accent the look and add a feeling of welcome by choosing a decorative wreath that speaks to your style.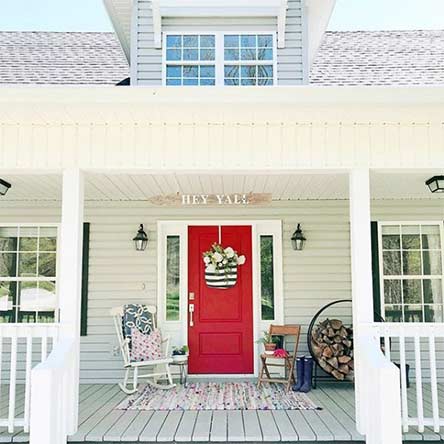 Use Some Flower Power
Flowers provide a design element that changes throughout the year, so they always seem fresh and new. Create the look with ease by using colorful plants on your porch. Place a large planter on either side of the doorway. Fill a plantstand with autumnal flowers. As the weather gets colder, opt for hardy plants like catmint and pansies to lend texture and color throughout the winter. Be sure to use planters of varying heights to create architectural interest.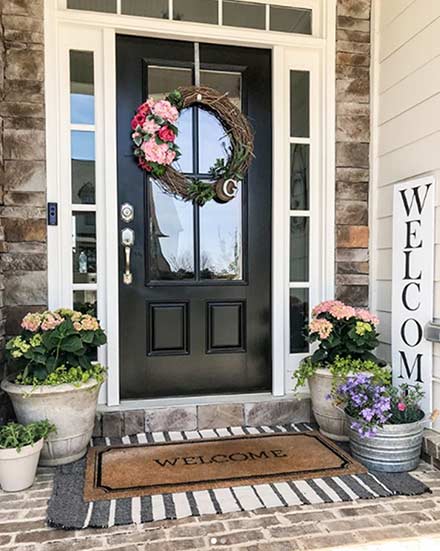 Cozy On Up
For the finishing touches, add pillows, throws and a few outdoor candles to deliver a message of warmth and welcome.