Just a Trim
Article 4 of 6
Looking for a simple yet highly effective way to enliven a room? Consider a trim refresh. The right trim frames your furnishings or puts a whole new spin on a space. Once you've decided the look you want to achieve, zero in on the best colors for your trim.
A Touch of Elegance
Create an elegant frame for your room by painting trim in a darker color than the walls. This design technique is especially pleasing in a room with thick baseboards and crown moldings, but it can also thrive on less elaborate trim. By painting trim a darker color, the eye is drawn from the walls to moldings, window trim and doors. The focus gradually narrows to the artwork, furniture and accessories.
If your walls are white, off-white or a light color, pair them with a trim color like Cascades SW 7623 or Black Magic SW 6991. Using a gloss finish on trim lends an extra layer of brilliance.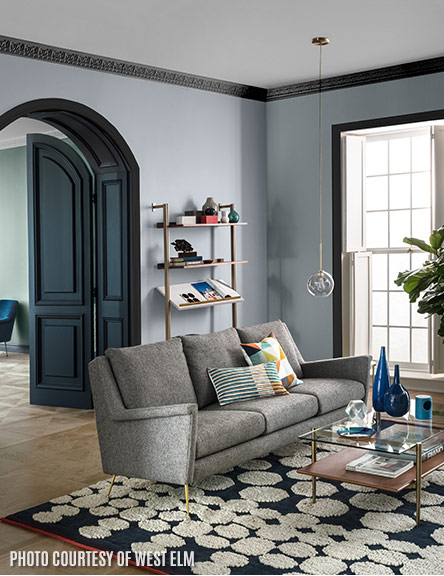 A Layered Look
Painting walls and trim in the same color brings dramatic depth to a room. Rather than all white, think about deep shades of green or blue like our 2018 Color of the Year Oceanside SW 6496 or Saguaro SW 6419. You can match the walls with key furniture to enhance the layered look. If you're wary of using a single color, paint trim in a different tone, shade or tint from the walls.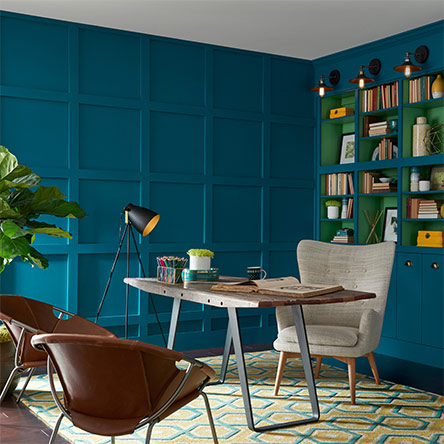 A Burst of Color
Nothing gives a room an added punch of flavor more than bold trim. Add sizzle to simple trims with a bold, red color like Radish SW 6861. Another option: Go bold to highlight key details in a room, such as a door and a built-in bookcase.
Opt for colorful trims anywhere you want to encourage creativity and energy. Kitchens, home offices and nurseries benefit from a color boost. Stop in your neighborhood Sherwin-Williams store and ask about the best trim paint for your needs.