Now Trending: How to Incorporate the Latest Styles into Your Home
Article 1 of 6
From the luxurious curves of retro furniture to updated color palettes that tie a room together, today's design trends bring a renewed vibrancy to interiors. Best of all, you don't have to completely redo your home to adopt these styles. A few key updates will do. Here are a few of the top trends, ways to make them work in your home, and how to complete them with color.
Art Deco
The Art Deco era of the 1920s and 1930s captured America's fondness for refinement with a modern flair. To add this style to your home, start small; for example, in your living room, add a beveled-edge mirror above a lacquer-finished table or couch. Look for sofas with long curves and lush velvet upholstery in solids, geometric, zigzag or stylized animal prints to increase the Art Deco feel.
Color Suggestion:
Color Suggestion: Think bold, striking and glamorous. Achieve the look with colors like Frostwork SW 0059 paired with Alexandrite SW 0060 and add a wonderful accent like Studio Mauve SW 0062.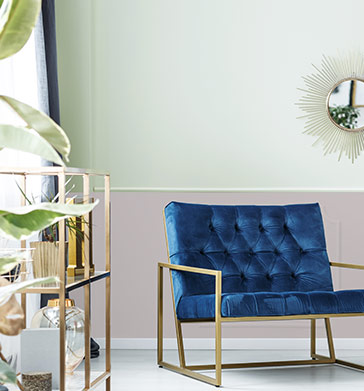 Mid-Century Modern
Your grandmother's furniture called, and it wants to make a comeback. Mid-century modern's sleek-yet-unfussy tone brought streamlined design into the typical family living room. Introduce mid-century modern into your home by adding items like a cylindrical coffee table in copper or a round-back swivel chair.
Color Suggestion:
Form and function balance brilliantly in mid-century modern style, and a neutral color palette reinforces the aesthetic. Anchor the room with a smoky gray like Mineral Deposit SW 7652 or a soothing neutral such as Shoji White SW 7042; then, add color through accent pillows and artwork.
Palm Leaf, Floral and Terrazzo Prints
Patterns are back. From patterned wallpaper to floral upholstery and terrazzo tile, today's interiors get a boost from prints with personality. Use them to turn an ordinary half-bath into a tropical retreat, give a traditional sofa or bedspread a colorful redo or put some sparkle in your backsplash. Remember that with prints, a little goes a long way, so choose the best one for your space and use it as an eye-catching accent.
Color Suggestion:
Color Suggestion: Use paint to tie the look together and create the desired ambiance. Consider the emotion drawn from a pattern and let paint reinforce that feeling. When using a sweeping palm print wallpaper, anchor the space by painting paneling and moldings in white. Neutral accessories with a hint of gold or silver interrupt the tropical theme just enough to create balance.
Texture
Texture gives a room depth and warmth. Natural elements like wood floors and trim combine with metallic finishes, patterned carpet and live-edge wood to create a visual and tactile appeal. To add texture, start small with velvet throws and pillows in a family room or decorative wicker baskets and statement lamps in a bedroom.
Color Suggestion:
The richness of texture delights the senses and is best displayed amid warm, earthy colors. Sand Dollar SW 6099 and Moonlit Orchid SW 9153 are examples of colors that enhance the feeling of texture without overpowering the room.
New Neutrals
White remains a classic, but that doesn't mean it's your only option. When you want neutral with a little something extra, look to the "new neutrals." Colors ranging from gray to green and from pink to beige capture this fresh look, which harmonizes with so many design styles. Find neutrals that work well together, and use them as inspiration for furniture, artwork and paint.
Color Suggestion:
The new neutrals are a great way to pull subtle color into a room. Consider soft greens like Spinach White 6434, easy grays like Drift of Mist SW 9166 and warm whites like Paperwhite SW 7105.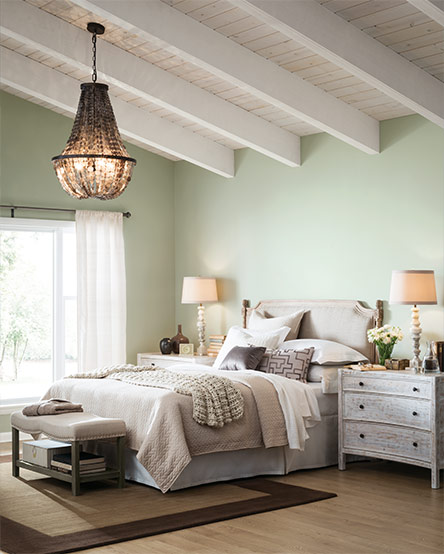 All About Green
Green is the go-to color for many current styles. Depending on the hue, green walls can evoke a cool contemporary setting or a warm natural retreat. Find the green that enhances your style, and use it in areas of your home where you want to make a design impact.
Color Suggestion:
One of the most exciting themes for green right now is tone-on-tone. It adds depth to classic décor and reinforces the natural aspect of contemporary styles. Match a sumptuous green velvet sofa with a color like Cilantro SW 6453. Paint a bookcase and the wall behind it in Relish SW 6443. Bathe your bedroom in relaxing Clary Sage SW 6178. Embrace the green you love, and make it work in your space.